Die Liste der Referenten wächst: Die Showlight 2017 in Florenz bietet ein breitgefächertes Programm.
Andreas Huber (Osram) setzt sich mit der Neugier, aber auch den Zweifeln auseinander, die beim Thema "Laser" in der Branche aufkommen. Dabei hat die Lichtquelle enormes Potenzial und es gibt bereits genügend Projekte, die die Lichtquelle einsetzen.

Durham Marenghi wird den Schwerpunkt seines Berichts nicht etwa auf die viel diskutierte Eröffnungszeremonie der Olympischen Spiele in Rio setzen sondern auf die Abschlussfeier, die nicht nur mit einem weitaus kleineren Budget als dem der Londoner Schlussfeier von 2012 auskommen musste sondern auch mit einer limitierten Zahl von Hängepunkten und ohne Proben.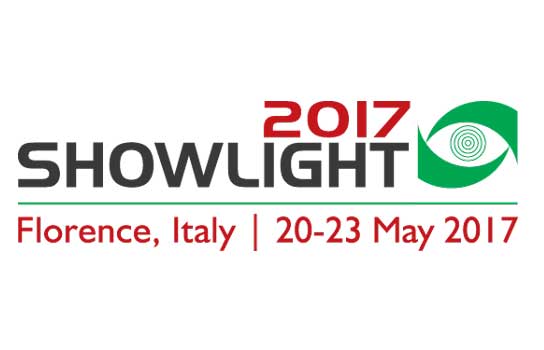 Der außergewöhnliche Projektionskünster Frieder Weiss erläutert die Pixelmapping-Effekte einer Show, die er für eines der großen Kreuzfahrtschiffe konzipiert hat und zwar komplett auf dem Infrarot-Tracking der Performer basierend.

Isabel Nielen berichtet vom Licht für ein Konzert in der niederländischen Hügellandschaft, deren Landschaftselemente sie über weite Distanzen mit Lasern ausgeleuchtet hat.

James Simpson erläutert seine Arbeit am Royal Opera House, wo er mit dem Instrumentarium der Virtual Reality den Designprozess unterstützt, um bessere Planungen und letztlich bessere Produktionen zu realisieren.

Karl Taylor gibt einen kurzen Überblick über die Arbeit und die Zeit, derer es bedarf, jene ungewöhnlichen Objekte zu erschaffen, die für den Zauber des Theaters sorgen – von der Handlampe, zu Zauberstab oder und Kreisel bis zur fliegenden 5-Kw-HMI. Von der Interpretation eines Konzepts bis zur technischen Umsetzung - anhand von Beispielen und Anekdoten enträtselt Karl Taylor den Weg von der Idee zum Objekt.

Paul Russell erläutert die Verwendung von Kerzen im Globe Theatre, im Sam Wanamaker Playhouse und im Farinelli im West End.

Kameramann und Director of Photography Phil Meheux ist ehemaliger Präsident der British Society of Cinematographers und Preisträger der American Society of Cinematographers. Er hat Filme wie Casino Royale, Goldeneye, The Long Good Friday, The Mask of Zorro, Smurfs 1 & 2 gedreht und den Sprung zur Digitalisierung gemeistert.
 
Showlight 2017
Florenz, 20. - 23. Mai 2017
Anmeldung: http://www.showlight.org/registration/