Adder Technology bringt mit der ALIF4000 die laut eigener Aussage "weltweit erste, leistungsstarke Dual-Head-4K-IP-KVM-Matrix über eine einzige Glasfaserleitung".
Die neue Matrix von Adder Technology ist voll kompatibel mit der bisherigen INFINITY-Reihe, kann also ohne Unterbrechung, Ausfallzeiten oder die Notwendigkeit, bisherige Komponenten zu ersetzen in ein bestehendes Netzwerk integriert werden.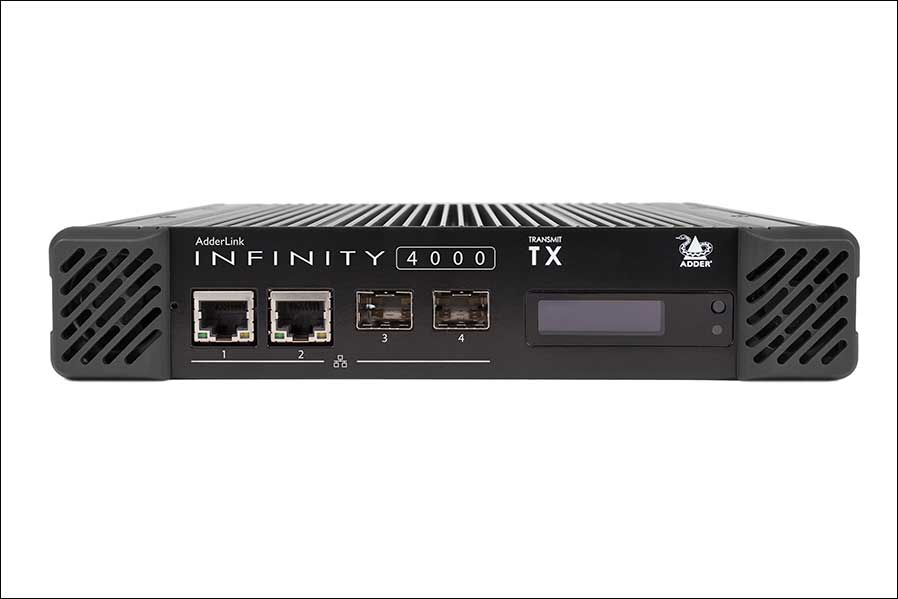 Die ADDERLink INFINITY 4000 Serie wird auf der ISE in Amsterdam vorgestellt.
Die ALIF4000 bietet pixelgenaue Bildqualität, Audio und USB auf einem einzelnen oder zwei 4K-Bildschirmen über eine einzige Glasfaserverbindung. Gleichzeitig unterstützt sie gemischte 1-GB- und 10-GB-Netzwerke und bietet den Kunden die Möglichkeit, 4K auszubauen, wann immer sie bereit sind.
John Stevens, Director of Engineering des in Los Angeles ansässigen Postproduktionshauses The Foundation, sagt: "Die Einführung der ALIF4000-Serie gibt uns die Möglichkeit, die 4K-Funktionalität unserer bestehenden Infrastruktur nach Bedarf zu erweitern, ohne dass wir unsere aktuellen Bauteile ersetzen müssen. Das bedeutet, dass wir den wachsenden Bedarf unserer Kunden an 4K-Produkten weiterhin decken können."
Die ALIF4000-Serie vereinfacht die Einführung und Effizienz von 4K IP-KVM, indem sie 4K, USB und Audio über eine einzige Glasfaserverbindung erlaubt. Dies macht sie zur idealen Lösung für alle, die einen einzelnen oder zwei 4K-Bildschirme in eine IP-KVM-Umgebung integrieren möchten.
Adrian Dickens, Geschäftsführer von Adder Technology, sagt: "Als wir während der Entwicklung der ALIF4000 mit Kunden sprachen, entdeckten wir, dass viele die Umstellung auf 4K verzögerten, um kostspielige Hardware-Upgrades beziehungsweise einen gesamten Hardware-Austausch zu vermeiden, von denen sie glaubten, dass sie für den Erhalt von 4K- Videosupport erforderlich seien.

 

Als Reaktion darauf hat Adder ein Produkt geliefert, das es den Kunden ermöglicht, 4K in ihren Workflow einzubinden, zu einem für sie geeigneten Zeitpunkt und ohne unnötige Kosten zu verursachen."
Adder Technology auf der ISE 2019