Der Aufsichtsrat der satis&fy AG hat zum 1. Juli Dr. Galia Diez und Chris Fleck in den Vorstand berufen.
Damit wächst der Vorstand von zwei auf vier Mitglieder an. Zum Vorstand gehören zudem Nico Ubenauf und Dirk Vennemann.

Galia Diez ist seit 2014 als Head of Corporate Development bei satis&fy tätig. Sie verantwortet den Bereich der Organisationsentwicklung im Unternehmen. Diese Zuständigkeit wird die 35-Jährige auch als Chief Development Officer beibehalten. Neben ihrer Gesamtverantwortung wird Galia Diez weiterhin für die Weiterentwicklung der IT- und der HR-Abteilungen zuständig sein.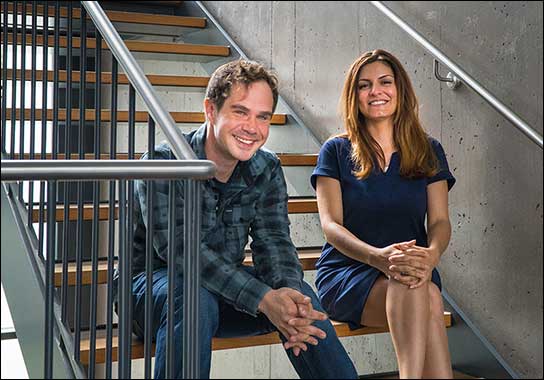 Neu im Vorstand der satis&fy AG: Dr. Galia Diez und Chris Fleck



Chris Fleck, 38, verantwortet seit 2015 als Head of Finance die Finanzstrategie, wie auch weiterführend als Chief Finance Officer.

Die Erweiterung des Vorstandes um Nico Ubenauf, Chief Executive Officer, und Dirk Vennemann, Chief Operations Officer, liegt in dem Wunsch der Unternehmensführung und des Aufsichtsrats begründet, satis&fy durch Professionalisierung zu stärken, gesund und nachhaltig zu wachsen.
"Mit Galia Diez und Chris Fleck holen wir zwei erfahrene Mitarbeiter aus den eigenen Reihen in den Vorstand, die in den letzten zwei Jahren maßgeblich daran beteiligt waren, einzelne für die Firma wichtige Bereiche weiter zu professionalisieren", erklärt Nico Ubenauf.
Auch für Dirk Vennemann ist die Ergänzung des Vorstandes richtungsentscheidend:

"Seit dem Ausstieg des ehemaligen Vorstandes und Gründers Kai Weiberg ist satis&y noch mal stark gewachsen. Für uns war es daher wichtig, die Ressorts Finanzen und die das operative Geschäft stützenden Bereiche HR und IT, die zuvor bei Kai Weiberg angesiedelt waren, mit neuen Vorständen zu besetzen.

Mit Galia und Chris kommen Kollegen an Bord, die mit Blick auf das Ganze den Kurs, den unsere Company zukünftig einschlagen wird, verantworten können."