Der Palco 5 im Detail: Ein Hochleistungs-LED-Fluter für die Farbrampe und den Architektur-Einsatz.
Der Palco 5 wurde mit dem Ziel entwickelt, eine LED-basierte Alternative zu konventionellen Fassadenflutern wie dem City-Color zu bieten. Er ist mit IP 55 für den Außeneinsatz geeignet und erlaubt durch Linsenwechsel verschiedene Abstrahlwinkel.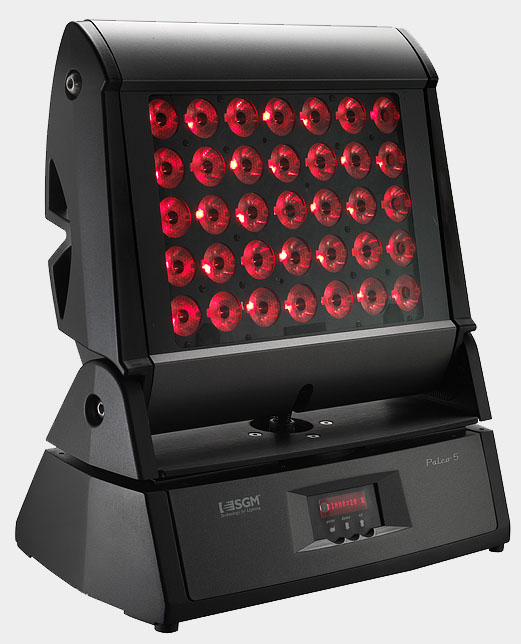 Häufig wird der Palco 5 aber auch als Ersatz für die typischen Farbrampen in Beleuchtungszügen auf Bühnen eingesetzt. Man gewinnt dadurch brillantere Farben, spart bei Strom- und Wartungskosten und kann beim Palco auf eine DMX-Verkabelung verzichten, was bei vielen älteren Beleuchtungszügen nur schwer zu verlegen wäre.

Der Palco 5 Full Color bietet mit integriertem W-DMX Empfänger sowie einer Agenda- Funktion einen hohen Komfort, auch wenn mal keine DMX- Leitungen verlegt werden sollen. Die Stand-Alone-Funktion beinhaltet eine Master-Slave-Funktionalität sowie einen integrierten Wochentimer, der für jeden Wochentag individuelle Programmierungen verwalten kann. Zusätzlich kann man mit einer IR-Fernbedienung das Licht einstellen sowie Macros, oder andere Programme aufrufen.

Kernstück des neuen Palco 5 Full Color ist die Verwendung der neuen Luxeon Rebel-LEDs. Trotz Verwendung der Single-Chip-Rebel-LEDs ist der Palco ein Full-Color-LED-Strahler. Dies wird durch eine besondere Anordnung der LEDs in Kombination mit einem speziellen Kollimator erreicht. Damit hat SGM einen Weg gefunden, die optischen Vorteile der üblichen lichtschwächeren Fullcolor-LED-Module mit dem  höchsten Licht-Output eines Single-Chip-LED-Moduls zu verbinden.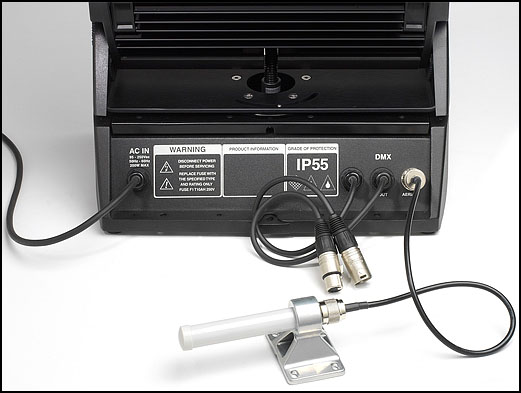 Bei einem Full-Color-System erfolgt die Farbmischung im Scheinwerfer selbst, so dass keine Farbschatten entstehen können und der Blick auf den Lichtaustritt nicht nur die drei Farben Rot grün Blau zeigt, sondern bereits die gemischte Farbe. Der Palco 5 ist aber auch mit weißen und amber-farbigen LEDs bestückt als Palco 5 Full-White-Version erhältlich. Denn weiße LEDs mit Phosphorzumengungen weisen ein wesentlich breiteres Lichtspektrum auf und haben damit eine wesentlich besser Farbwiedergabe beziehungsweise ein angenehmeres Weiß. Natürlich lässt sich beim Palco 5 Full White auch die Farbtemperatur einstellen.

Der Palco 5 Full Color ist die konsequente Weiterentwicklung des Palco 3 und bringt gegenüber dem Vorgänger einen integrierten W-DMX Empfänger für drahtlose DMX-Übertragung mit, einen höheren Licht-Output durch Verwendung von Single-Chip-Luxeon-Rebel-LEDs und zudem die Innovation der Single-Chip-LED als Full-Color-System.

Mit dem Palco gewann SGM den LDI Award 2004 als Lighting Architecture Product of The Year, den iF Design Award 2006 und den Designpreis 2007 sowie den STAR Award NAB 2006 als Ultra-High Power White LED Fixture.

Der Palco 5 Full Color ist mit IP 55, Programmablauf ohne DMX-Kabel legen zu müssen und der sehr hohen Lichtleistung ohne störende Farbschatten ein wohl idealer Fluter für den Verleih, das Architainment sowie für Stadthallen und Theater. Mit ihm lässt sich nicht nur Energie sparen, erleichter wird auch das Setup mittels IR-Fernbedienung, W-DMX oder der Agenda Funktionen. Das Gerät erreicht die Schutzklasse IP 55 und trotzt so auch jeder Witterung.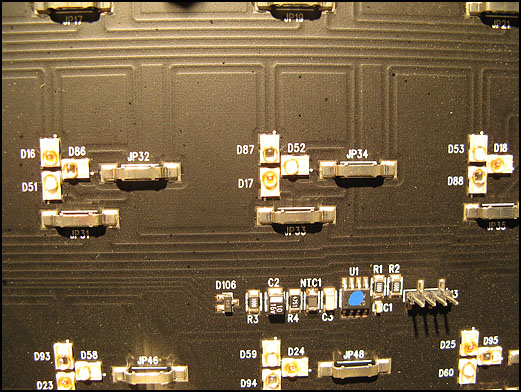 Technische Daten: Palco 5 Full Color
Schutzklasse: IP 55
Leistungsaufnahme: 260 W
Lebensdauer: 50.000 h bei 100 %

+ 8 DMX Steuerkreise
+ Opto-isolierter DMX 512 Eingang
+ Wireless DMX-Interface eingebaut
+ LED Display mit Drei-Tasten-Bedienung
+ Software-Update über DMX 512

Technische Besonderheiten
Full Color bei Luxeon Rebel LEDs, Stand-Alone-Funktionen, W-DMX, IR-Steuerbarkeit, IP55

Full Color:
35 Rebel Blaue LEDs - 3W
35 Rebel Grüne LEDs - 3W
35 Rebel rote LEDs - 1,5W
Farbtemperatur: 6.500 Grad K (variabel)

Full White:
70 weiße LEDs - 3W
35 Amber LEDs - 2W
Farbtemperatur: 2.000 - 6.700  Grad K (variabel)

Lichtleistung
Full Color: 5.500 ANSI-Lumen
Full  White: 12.000 ANSI-Lumen

Optik
16°, 25°, 40°

Bewegung
+/- 45° PAN und –75° / +15° Tilt

Schutzklasse
IP 55

Dimmer / Strobe
Ja, 14 Bit Auflösung interpoliert und Flicker Free / Ja

Ansteuerung
DMX-512, RS232, IR-Fernbedienung, Stand Alone, Master Slave, Agenda, W-DMX

Kühlsystem
konvektionsgekühlt mit zirkulationsunterstüzendem Lüfter

Farben
Gehäusefarbe Schwarz, auf Anfrage auch andere Farben

Lautstärke
Fast nicht zu hören

Anschlüsse
DMX-512 XLR 5pol IP 65 In und Out, Antennenanschluss N-Type, Netzkabel

Stromanschluss
90 - 270 V AC, 50 - 60 Hz, 350 W

Montagepunkte
Camlook Schnellwechselsystem sowie Bohrungen für Festinstallation

Abmessungen
(Breite / Tiefe / Höhe)
480 x 350 x 570 mm

Gewicht
13,5 kg

Mitgeliefertes Zubehör
W-DMX-Outdoorantenne, zwei Camlockaufhängehacken, Sicherungsseil, DMX-Kabelanschluss mit IP65 XLR 5pol Steckverbindern, Umrüstratz auf Handknebelschrauben, Inbusschlüssel, IP65 W-DMX-Antenne, Antennenkabel, Befestigungssatz und Zuleitung ohne Schukosteckverbiunder

Optionales Zubehör
Linsensätze in den Abstrahlwinkel 16°, 25° und 40°
Diverse W-DMX-Antennen mit höherer Richtwirkung
IR-Fernbedienung

Deutsche Bedienungsanleitung
Ja, die deutsche Anleitung wird gerade übersetzt.

Produkt-Homepage
Die deutsche Seite ist gerade im Aufbau.

Produkt-Support
Eigene Service-Abteilung beim Vertieb db-Technologies
7 Tage / Woche Support bei SGM

Referenzen
Das Gerät ist ganz neu, das Vorgängermodell war international auf Tour: Rolling Stones,Bryan Adams, Coldplay, MTV Oxygen Festival, Shakira ...

Lieferbar
Seit 10. November 2009

Empf. VK inkl. Mwst.
4.995,00  Euro

Vertrieb in Deutschland
db-Technologies
www.sgm-lighting.de

Vertrieb in der Schweiz
+Music
www.plusmusic.ch